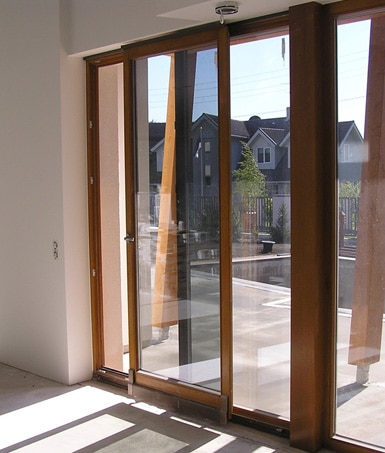 The door or window could be open by pulling and sliding on a rail, with a comfortable and easy movement
of the wings, which has a perfect seal with rubber. By turning the handle 90 degrees, an opening, called
"falling wing" takes place.
One of the characteristic features of the sliding type Volkswagen is the very tight compression of the wing
to the fund, which ensures the best thermal and acoustic insulation of all types of sliding systems. It
allows the produce of very broad wings, which maximum size is 150 * 240 sm. It could be used for
entrance doors, but a disadvantage could occur, as the threshold of the doors is too high. When you
rotate the handle up and pull towards, the wing gets into the room and it slides on the left or right side.
The fittings are German made-Roto. It is highly protected against breaking, because specific angles with
anti-burglary fungous buds are used. Another big plus is that you can use very large triple glazed windows
up to 48mm width, something that is not possible with other sliding system.